Products
Products Offered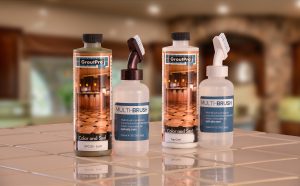 GroutPro is proud to introduce our Grout Color Seal Program. This program includes the products and tools necessary to color and seal grout quickly and easily.
We stock a wide variety of standard grout Color Seal products, including a top coat. Our selection will also expand to meet demand for new colors.
Our patented Multi-Brush I & II application tools simplify the process of using grout color and sealer and are compatible with most of the color and seal products sold on the market today.
Multi-Brush I

The Multi-Brush #1 is designed for applying GroutPro Color Seal products to grout lines. You will love how it eliminates several tedious steps that usually slow down the grout color and seal process. All of our products provide a low gloss finish that increases durability, ensuring years of easy cleaning and maintenance.
Multi-Brush II

The Multi-Brush #2 incudes a special flow restrictor for easily applying a top coat sealer.  Applying a top coat to grout lines creates a high-quality finish that improves durability. Like the Multi-Brush #1, this tool greatly simplifies the grout sealing process.
Grout Pro's Color Seal Program is designed for individuals who want to simplify the application of grout color and sealer with quality products. Designed by grout professionals with over twenty years of experience, these tools are proven to save countless hours or labor when applying grout color and sealer.